Faith Baptist Church - Morton Ministry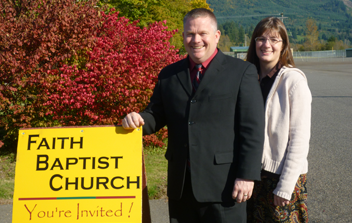 On April 4th, 2010, Faith Baptist Church of Ashford stepped out by faith to reproduce themselves in the town of Morton, about 30 minutes away. Even though Faith Baptist Church was only 5 years old we believed that this was the direction that God wanted us to go. So, we rented the Senior Center (across from Spiffys) on Sunday afternoons, loaded up the van with our pulpit, bibles, songbooks and people and headed over for an afternoon service. We are still doing this each and every Sunday.
We start services at the Senior Center at 3:15 pm and are done at around 4:15 pm. we have families from Ashford, Mineral and Glenoma as well as Mossyrock. We count it a joy to be able to minister to those living in Morton and the surrounding communities. We look forward to seeing you there.
If you have any questions or need to get in contact with for any reason please call us at 360-569-0902 or email us at fbca@centurytel.net.
Photos from Faith Baptist Church
Faith Baptist Church Ashford, Washington 360.569.0902