Faith Baptist Church - Home Page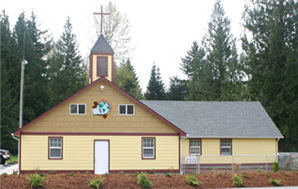 Welcome to Mount Rainier, the "Crown Jewel of the National Park System", and the beautiful Ashford area. We do hope and pray that your stay will be safe, enjoyable and memorable. Just as you have a physical need for rest and relaxation we would like for you to remember that you have spiritual needs as well. While you are enjoying yourself and meeting your physical needs we would also like to invite you to join us for some spiritual encouragement and Biblical teaching.
Faith Baptist Church is a place where everyone is welcome. It is a place that is committed to the preaching and teaching of the Word of God. Faith Baptist Church is also a place where you will hear old-fashioned singing as well as old-fashioned preaching that is designed to help you have a closer walk with not only the God of Heaven but also with His Son Jesus Christ. We have programs designed for the whole family - from a nursery for infants and toddlers to Sunday School for all ages. We offer a Children's Church program during our 11:00am service so that the children will be able to have age specific preaching and teaching while the teens and adults have preaching and teaching designed just for them. We also have a 6:00pm service on Sundays designed for the whole family as well as a 7:00pm Bible Study on Wednesdays.
We at Faith Baptist Church understand that you are on vacation, so we say to you "Come as you are!" Of course; our prayer is that you will not only come visit us, but also that you will leave with a greater love for God and a better understanding of the sacrifice His Son, Jesus, made for you on the cross.
Faith Baptist Church Ashford, Washington 360.569.0902